The continuous flight auger (CFA) piles were developed approximately fifty years ago and is one of the more common piling techniques, as they can be an economical solution to other piling systems in the right stratum. With effective planning and design, efficient equipment and experienced personnel, high production rates can be achieved.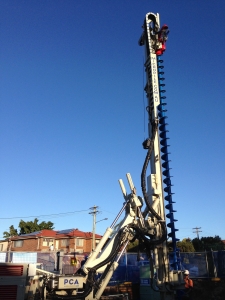 CFA piles are formed by drilling a continuous flight auger into the ground. The sides of the hole are supported at all times by the soil-filled auger, eliminating the need for temporary casing or bentonite slurry. Once the auger reaches the required design depth a temporary plug which prevents soil from entering the hollow stem of the auger, has to be ejected. Slightly lifting the auger and injecting the concrete or cement grout down the hollow stem of the auger with enough pressure to eject the plug allows the concrete or grout to flow freely. In a concurrent process with the concrete being pumped in to the pile, the auger is steadily withdrawn until the auger is completely removed from the pile. Immediately after withdrawal of the auger a reinforcing cage is placed into the grouted column concluding the production of a CFA pile.
The most common size cfa piles are 0.3, 0.45, 0.6, and 0.75 m diameter, with larger sizes by exception. They can be constructed to depths in excess of 30 meters.
An important feature of present day CFA piles is the use of a reliable flow meter to monitor and record the whole process of construction of this type of pile. The items recorded are usually penetration / uplift per revolution, auger depth, concrete supply per increment of auger uplift during placing, and injection pressure at the auger head.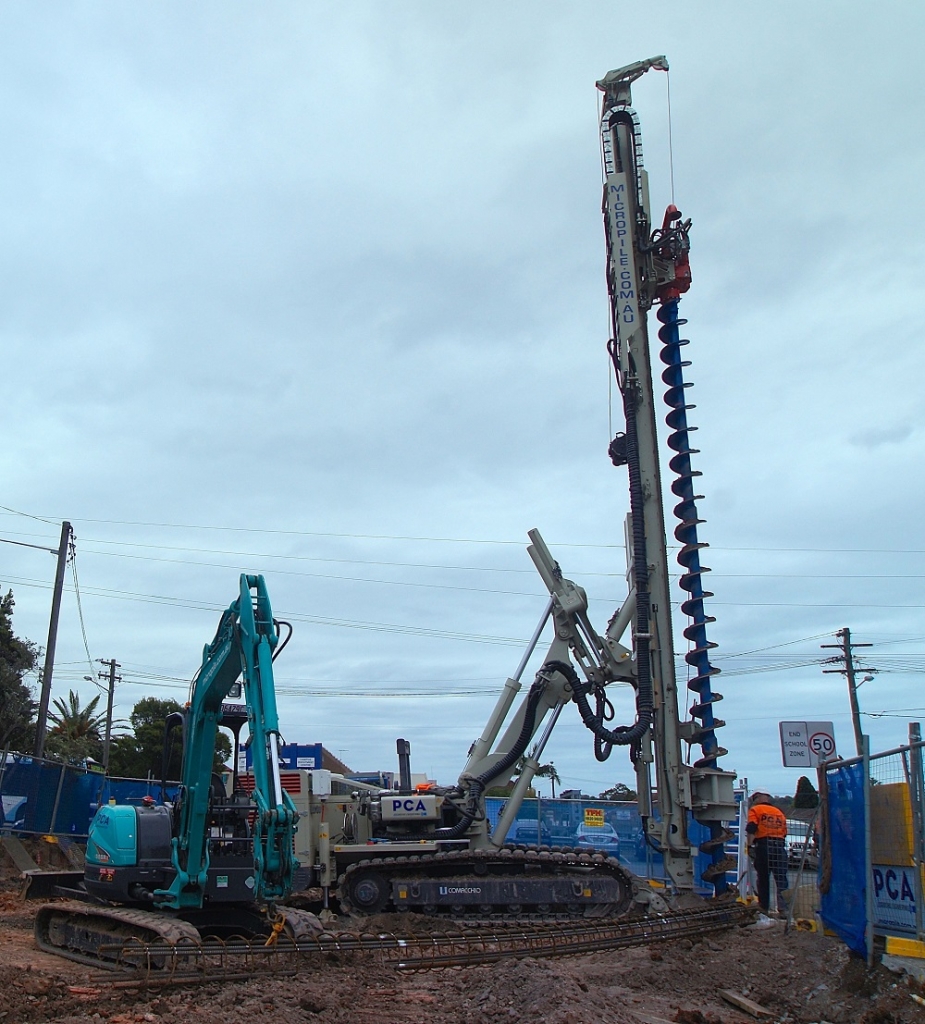 In line with our continual persuit of worlds best practice, We are proud to be able to deliver a new adaptation to the traditional cfa pile referred to as the VDW system. It is a vibration free and low noise procedure used for installation of single piles, as well as contiguous or secant pile walls.
The process is very similar to that described above however this system turns the auger and an outside casing simultaneously in a counter rotating directions. The spoil is ejected by openings at the upper end of the casing. The pile is filled with concrete, which is pumped by a separate concrete pump through the swivel of the auger head.
The auger head and the casing are pulled simultaneously during the grouting or concreting process. The result is a better connection to the adjacent soil and a significantly higher quality of finish, which can yield significant financial advantage when utilized as a finished basement wall in a car park or similar.bestgrammarchecker.netbuy essay papers
Our quality and tremendously skilled writers can full-blown each and every prepare my essay needs. Get leading quality essay posting for a fair cost pay for essay